Crevier Family Benefit Concert
Join us as we perform a benefit concert in support of the Mr. Gilles Crevier family. In April 2016, Gilles' wife Bridget, was diagnosed with a rare neurological disorder known as "Complex Regional Pain Syndrome" or CRPS. This agonizing chronic pain condition has totally immobilized Bridget and unable to walk for two years now, the syndrome has continued to progress.
It is unknown whether the condition will ever improve, and in addition to ongoing medical bills, the Crevier home and vehicle require modifications to meet Bridget's mobility needs.
As such, Joy Winter and friends of the Creviers have asked the public to join with the Winnipeg Pops Orchestra, The Snow Tones vocal group, and special guest vocalist Suzanne Rutledge on Saturday April 28th in what promises to be a "show-stopper" evening with proceeds going towards assisting the Creviers with their ever-gowing needs and medical costs. Gilles is WPO's Concert Master and the orchestra is so fortunate and elated that Gilles is able to continue his committment as the conductor's right-hand man.
Event Information
• Date: Saturday, April 28, 2018
• Location: Centre Culturel Franco-Manitobain
Pauline-Boutal Hall,
340 Provencher Boulevard
Winnipeg, Manitoba
• Start Time: 7:30 pm (Doors open at 7:00 pm)
• Tickets: $20 , available online only at:
https://crevierbenefit.eventbrite.ca
If you have any questions about tickets of the event, please email winnipegpops@gmail.com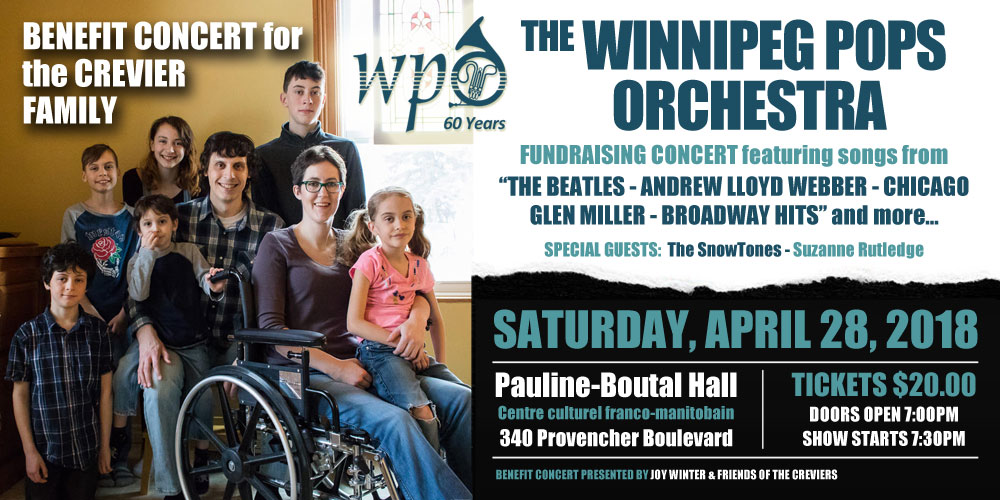 OUR CONCERT SCHEDULE
---
2018:
•
Riverview Health Centre - 1 Morley Ave.
Thursday, December 13, 2018 - 7:00pm
(Private Performance)
•
Villa Aulneau - 601 Aulneau St.
Thursday, November 29, 7:15pm
(Private Performance)
•
Lyric Theatre Summer Concert Series, Assiniboine Park
Thursday, July 5th, 7:00pm
(Free Public Performance)
•
Riverview Health Centre - 1 Morley Ave.
Thursday, June 28, 2018 - 7:00pm
(Private Performance)
•
Shaftesbury Park Retirement Residence, 905 Shaftesbury Blvd.
Thursday, June 21st, 2018 - 7:15pm
(Private Performance)
•
Lindenwood Terrace, 490 Lindenwood Dr. E.
Thursday, June 14th, 2018 - 7:15pm
(Private Performance)
•
National Peter Gzowski Foundation Dinner
A Peter Gzowski Invitational Event in support of the John Howard Society of Manitoba
Club Regent Casino Hotel Grand Ballroom
Thursday, June 7, 2018
Tickets available at the John Howard Society of Manitoba,
or order online at: www.johnhoward.mb.ca
•
The Forks Market - "Under the Canopy"
Forks Community Band Festival
Saturday, June 2nd, 6:30 - 7:30 pm
(Free Public Performance)
•
"Partying With The Pops"
John Howard Society National Conference
Fort Garry Hotel, Concert Hall Grand Ballroom
Tuesday, May 29th, 7:00 - 9:00 pm
(Private Performance)
•
Lions Place Spring Concert - 610 Portage Avenue
May 10, 2018, 7:00pm
(Private Performance)
•
Crevier Family Benefit Concert
Centre culturel franco-manitobain - Pauline-Boutal Hall
340 Provencher Boulevard
Saturday, April 28th
Public Performance
Tickets: https://crevierbenefit.eventbrite.ca
•
2017:
Kildonan Personal Care Centre - 1970 Henderson Ave.
Thursday, December 7th, 7:00pm
(Private Performance)
•
Holy Redeemer Parish
264 Donwood Dr
Sunday, December 3rd, 7:00pm
Public Fundraising Performance - All are Welcome!
Tickets can be purchased by contacting the church office at:
(204) 669-0501
•
Villa Aulneau - 601 Aulneau St.
Thursday, November 30, 7:15pm
(Private Performance)
•
Lions Place - 610 Portage Avenue
Thursday, November 23rd - 7:30pm
(Private Performance)
•
Lyric Theatre Summer Concert Series Opener, Assiniboine Park
Thursday, June 22nd, 7:00pm
(Free Public Performance)
•
Tuxedo Villa Extendicare - 2060 Corydon Ave.
Thursday, June 15th, 7:15pm
(Private Performance)
•
"Dining With the POPS For Literacy"
A Peter Gzowski Invitational Event in support of the John Howard Society of Manitoba
Canad Inns Club Regent Casino Hotel
Thursday June 8, 2017
Tickets: $75.00 per person
Available at the John Howard Society of Manitoba,
or order online at: www.johnhoward.mb.ca
•
Lions Place Spring Concert - 610 Portage Ave.
Thursday, May 25 - 7:30pm
(Private Performance)
•
Riverview Health Centre - 1 Morley
Thursday, May 18, 2017 - 7:00pm
(Private Performance)
•
St. Stephen's Anglican Church - 220 Helmsdale Ave
Sunday, February 12th - 2017 at 7:00pm
Fundraising Performance